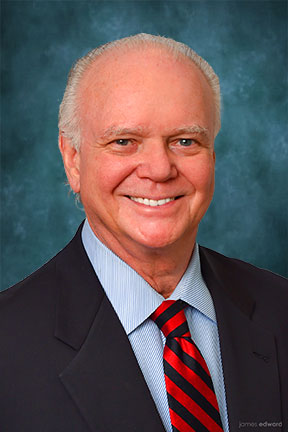 Senior Executive Adviser
Direct: 972-342-8586
Ray.Trapp@IFGroup.US.com
As an investment banker, Ray has worked on both the "buy-side" and the "sell-side". He has served in various capacities, including Program Manager on selected transactions, dealmaker, architect of the Due Diligence Opportunity Memorandum to position client companies for sale and financial adviser to company owners. He has worked on transactions as diverse as selling a leading edge fashion luggage company for $40 million, recapitalizing Texas' largest used car/truck dealership and raising growth capital for a regional airline, a chain of gambling casinos and a world famous women's fashion house. In the Aerospace & Defense field, Ray worked with Dan Flick to sell a closely-held aircraft interiors company for $52 million.
Ray's specialty is applying his extensive experience in strategic planning, branding and positioning brands and companies for growth. As an investment banker, Ray employs this same knowledge of marketing and brand development to position companies for sale or for recapitalization. Ray's experience is very broad; in addition to being an investment banker since 2000, he has enjoyed roles as Vice Chairman, President, marketer, entrepreneur and consultant in financial management, business start-ups, advertising, public relations, promotion, direct marketing, e-commerce, strategic planning and positioning for multi-national companies and products in the USA and Asia.
Ray's most demanding corporate experiences included 11 years with McCann Erickson World Group serving clients in the USA and Asia. Ray and his family lived in Tokyo, Hong Kong and Taipei for eight years in the 1990's where he worked on behalf of such fine companies as American Express, Tiffany, General Motors, Coca-Cola, Johnson & Johnson and Levi's brand clothing among others. Ray has extensive experience in the airline industry, having been involved in the start-up of Southwest Airlines, start-up of America West and Muse Air, and international travel to/from Asia for Northwest Airlines and Cathay Pacific Airlines.
Ray was raised in Chicago, educated at Villanova University where he was President of the Senior Class and Class Valedictorian, received his Masters degree in Business Administration with a dual degree in Marketing and Finance from the Kellogg School of Management at Northwestern University. He worked in New York City on Madison Avenue for one of the most famous ad agencies in the world, Ogilvy & Mather Advertising, and then in Dallas for several ad agencies before joining McCann Erickson where he finished his advertising career as Vice-Chairman of McCann Erickson Taiwan.
When he returned to the United States, he formed a consultancy, Ray Trapp & Associates Worldwide, where his largest client was Neiman Marcus. He later joined Allegiance Capital Corporation and became an investment banker, selling companies in the middle market.
In 2008, The Legacy Center for Public Policy, a Dallas-based public policy think tank, elected Ray as a Fellow. Ray joined with other Fellows of The Legacy Center to develop position papers on a variety of issues of importance to the North Texas community. He was recognized as "Most Distinguished Fellow" in 2009 and 2010, the first time a Fellow received this recognition in two successive years.
Ray is widowed with four children.