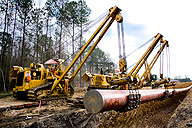 Infinity Financial Group is one of the best boutique investment banking firms serving the pipeline construction industry.
Representative Experience
The principals of Infinity Financial Group have recent experience representing pipeline construction companies with operations in Kansas, Oklahoma, Texas, North Dakota, Wyoming and Montana. Industry data provided by the most prestigious research source in the industry, IBISWorld, indicates that profit performance is forecast to remain strong throughout the next several years through 2017, with industry gross operating surplus (i.e., gross operating profit) maintaining accelerated growth of 6% per annum.
Further, it is forecasted that growth will accelerate in the area of pipeline reconditioning and maintenance due to aging infrastructure and new Government regulations.
This positive outlook has attracted a wide range of buyers who want to capitalize on the growth in the industry by buying up the small and mid-sized operators. The industry is expected to stay active for the foreseeable future.
Infinity Financial Group Expertise
The Infinity Financial Group team is comprised of principals who have represented family-owned construction companies for sale of their company. The firm has developed close relationships with a number of operators and has stayed attuned to developments in the field. This has given the firm superior industry-specific knowledge and insight, an in-depth understanding who is buying, what they are looking for and what they will pay; through its research sources, the firm understands the multiples being paid and value drivers that can lead to premium prices for the best operated companies.
The Infinity Financial Group is comprised of a dedicated team of highly experienced professionals that understand the unique characteristics of specialty construction companies. The pipeline industry is directly related to the energy sector and oil and gas drilling, distribution and transportation projects. Given Infinity's headquarters location in Texas, and our extensive work experience in Oklahoma and Kansas, Infinity Financial Group provides clients with superior industry-specific knowledge and insight, an in-depth understanding of key trends and value drivers in the oil patch and significant experience on relevant assignments. The firm maintains relationships with the decision makers of all the leading companies within multiple related industries and those private equity groups with a strategic interest and holdings in US-based pipeline construction. This in-depth industry knowledge is combined with unparalleled transaction experience in the lower middle market, providing our clients with exceptional valuations and superior results.